School Uniform
Please support school staff by checking that your child is fully prepared before leaving home.

The main reminders include full compliance with AGS uniform code – please see page 5 of the PPD (Policy for Positive Discipline). This includes strict limitations on jewellery, make-up and one clear facial piercing. It also means no trainers – only plain black shoes.
Short, grey, stretchy tube skirts are NOT permitted. Only tailored, knee length skirts are acceptable and available at most uniform suppliers/supermarkets.
Skintight grey trousers are NOT permitted. Trousers must also be tailored, loose fitted and to the ankle.
Shoes need to be worn with our main uniform. All shoes must be plain black with flat or low heels, with no logos. Dr. Martens type boots and trainers are NOT permitted.
Facial piercings are NOT permitted with the exception of a single clear nose stud.
Only 'natural' hair colour is acceptable.
Full AGS branded PE kit may be worn, all day, on PE days – page 5 PPD (Policy for Positive Discipline).
No coats are permitted to be worn inside the building – staff are permitted to confiscated.
Students need to bring full equipment every day.
Long or short sleeved shirts are permitted throughout the school year.
Policy for Positive Discipline (PPD) Document available here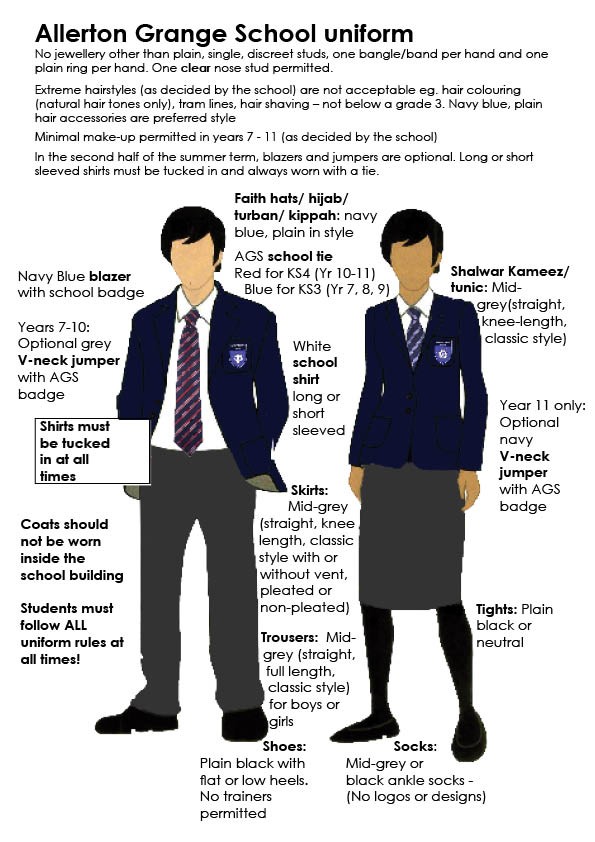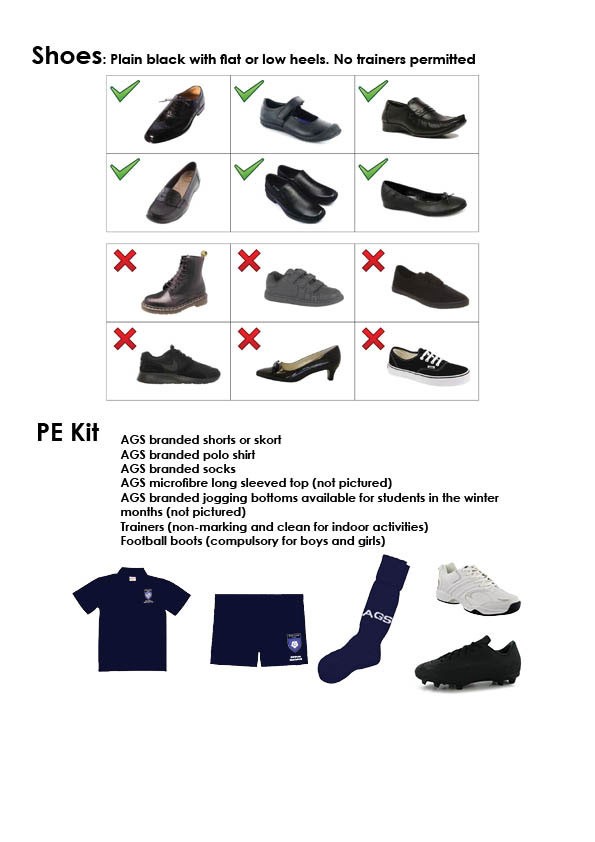 Summer Uniform
In the second half of the summer term (after half term), blazers and jumpers are optional. Long or short sleeved shirts must be tucked in and always worn with a tie.
This is part of the Leeds School Uniform Exchange, linked to Zero Waste Leeds. 
Parents and carers have the opportunity to donate and swap uniform free of charge, reducing waste and saving money. It's a great time to get involved and get swapping!
Click to visit the Allerton Grange School Uniform Exchange Facebook page
Please note this is currently being run on a voluntary basis by a parent.
We accept donations of outgrown uniform - please hand in clean donations to Reception.
Please email vikimciver@allertongrange.com to check what uniform is available and help us divert school uniform from landfill.