Equality, Diversity & Inclusion
At Allerton Grange, we are committed to supporting all members of our school community to share and promote a commitment to equality, diversity and community cohesion.
Our KLAS curriculum is the driving force behind advancing social mobility and cultural diversity. The KLAS curriculum is the guarantor of equality – all students regardless of background, ability/disability, gender, sexuality, religion or belief are exposed to the same ambitious curriculum and all students are provided with the same opportunities enabling them to develop their character and confidence.
The Equality Act 2010, states that it is unlawful for a school to discriminate against a student or prospective student by treating them less favourably because of their:
sex
race or racial group
disability
religion or belief
sexual orientation
gender reassignment
pregnancy or maternity
We are continually working to ensure all members of our school community are treated with respect, kindness and dignity, and are free from discrimination, bullying, harassment and victimisation.
Our cultural diversity is one of our strengths, and we value the contributions all members of our school community to the working and learning environment.
We are continually working to ensure that these commitments, reinforced by our values, are embedded in our working practices.
In accordance with the Equality Act (2010) and the Public Sector Equality Duty (PSED), Allerton Grange is working to fulfil the following Equality, Diversity and Inclusion Objectives:
 Staff understand and promote equality, diversity, and inclusion (EDI) across our school and local community. This will be achieved through a variety of means, including bespoke CPD, promoting flexible working and networking opportunities. It will also include training our staff on what EDI looks like in practice, to raise awareness of, and as a result eliminate, unconscious bias in all aspects of school life.
To undertake an audit of the curriculum to identify any gaps, ensuring coverage of all aspects of equality, diversity, social justice, and global citizenship, subsequently supporting the progress of all of our learners.
To further improve the personal development of all students by mapping out key events to be observed across the school, planning opportunities for them to be actively involved, and to engage with positive role models of diverse backgrounds in the process.
To use data to monitor achievement, attendance, behavior and rewards, in order to narrow the gaps between groups of learners, subjects, courses and key stages, ad support the aspirations of all our students.
To use data to monitor engagement of key groups of parents, in order to target less engaged groups more effectively, and build a more representative wider school and local community.
The Allerton Grange Equality & Diversity Policy is available on the Policies page of the school website.
In March 2019, Allerton Grange School was recognised as a trained LGBTQIA+ school. 
Please visit our LGBTQIA+ school page for more information.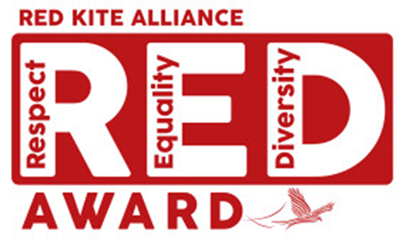 We are working with the Red Kite Alliance to complete the RED Award.
Information on our progress with the RED Award will be added to this page.