Hot Chocolate Friday

Students nominated by their Year Teams have met with Mr Roper in the return of a popular reward incentive, Hot Chocolate Fridays (or Cold Juice Friday during the Summer Term!). The Headteacher or Deputy Headteacher meets with students personally, in a joint meeting each Friday, to find out more about how they have succeeded in embracing our school values and going the extra mile.
Allerton Grange has a policy for positive discipline which focuses on rewarding good behaviour. It is embedded into school life through stamps in planners, achievement points and reward assemblies.
Congratulations to the following students: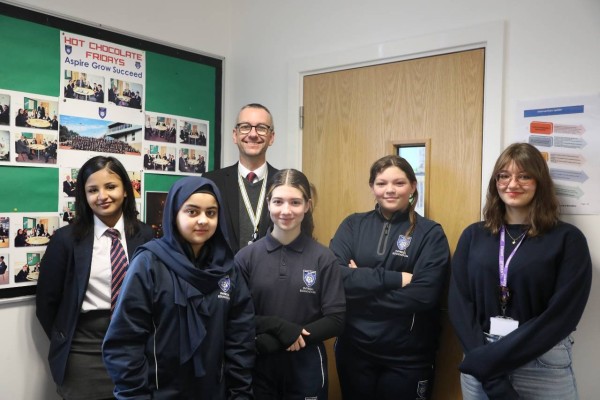 Kodie in Year 7 who was invited and took part in the North East Football talent ID event at Sheffield Hallam University.
Daria in Year 8 was nominated for being a polite, mature student, who is completely engaged with all her studies and works super hard each day.
Harrisah in Year 9 is doing so well in school and she is a great role model to others. Her behaviour and attitude to learning are outstanding. Keep it up!
Afsana in Year 10 was nominated for being brilliant on the trip to Leeds Beckett University and for asking very insightful questions whilst there.
Malak in Year 12 was nominated for being proactive, organised, hard-working and for making a fantastic start to Year 12.
Haris in Year 13 was nominated for having improved attendance.